FEED YOUR HERD
Contract high-quality feed, premixes and custom blends to feed your cows. Whether you need help purchasing feed, scheduling orders or deliveries, our team takes care of it all. We continuously work to make sure your loads can be sourced and delivered right to your farm. Constantly monitoring the markets, weather patterns and other region-specific factors that affect farms and deliveries, our merchandisers make sure your cows will get the feed they need when they need it.
"The DFA Farm Supplies Feed Ingredients group has been a great addition to our team. They are a timely source of good information, following up on order and scheduling details from start to finish."
- Mike Veeman, Veeman Dairy, Wiggins, Colo.
Our feed ingredients leaders can connect you with your farm's merchandiser. Contact them below to find your DFA Farm Supplies feed ingredients merchandiser.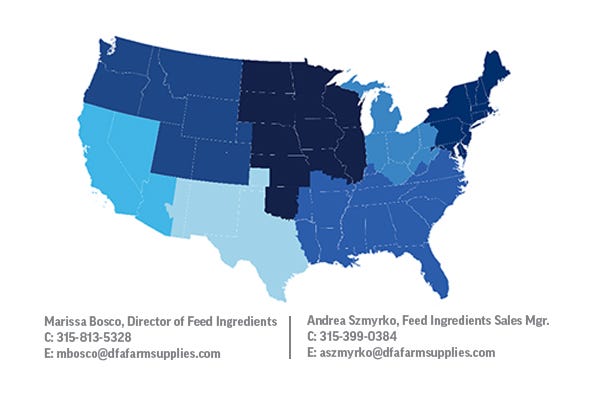 To learn more about feed options in your area, fill out the form below and a representative from our feed management team will contact you with available options.